I was quite pleased with the panels and turnout for this con. I started out on a panel with Tony Cratz, the esteemed former president of BayCon and general genius on many subjects. I only discovered I was on the panel 30-minutes before it started, but we had a great audience and it went well. The subject was "Too Much Data --The Information Overload...Are we choking on overload?" The answer to this is a no-brainer.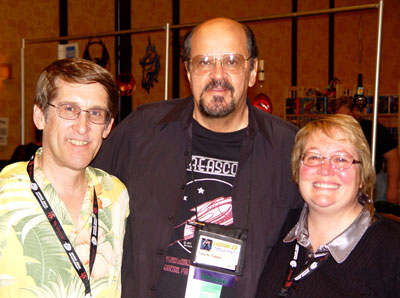 (L>R) Chris Weber, Tony N. Todaro, Karen Willson
Panels on Saturday included subjects I'd recommended: "The Writer's Toolbox" with Karen Willson and Marina Stern; and "Essential Reading for Writers" with Chris Weber and Vera Nazarian. Both panels were filled and went overtime, due to the numerous questions from our audience.
As there were no official photos of the panels, Chris and Karen posed for this shot later in the day. Both have written extensively as a team for television and other media, and I consider them good friends. We have plans to work closer in the future (yes, things are in the works).
I also had the pleasure of meeting with David Gerrold and Tim Powers, among others during this very hectic, yet rewarding event. Special thanks to Scott Beckstead, Ed Green, Chris Bauer and Katt Thompson (among others) for putting on a great convention.