How can you be in two places at once, when you're (...feeling...) nowhere at all? I had to cut my presence short due to another committment at the Long Beach Museum, allowing me only two days to meet with friends, fans, fellow authors, publishers, and yes, agents as well. This meant limited panels, no hospitality suites, no rest for the weary.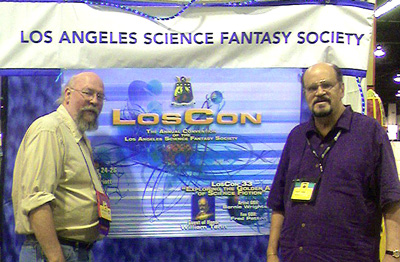 I was pleased to have been selected to create the artwork for the Los Angeles Science Fantasy Society for the LosCon 33 convention 2006. I had just completed the redesign of the LASFS.org website and was pleased to be asked to do more.
Scott Beckstead, Chairman of the event (left), has been a pleasure to work with, and I look forward to a closer relationship with him and everyone at LASFS over the years.
photo by Arlene Satin